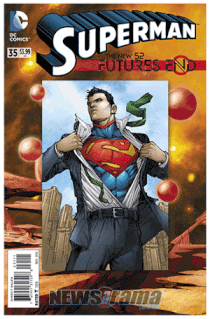 Aqui la lista de los cómics de Futures End que saldrán en edición estándar y 3D (aguas con los spoilers):

SWAMP THING FUTURES END #1
The Avatars of the Green, Red and Gray go to war with the avatars of Bacteria and Metal! It's five years later, and Alec Holland is trying to mediate a ceasefire that could also be his last stab at reconnecting with humanity!
RED LANTERNS FUTURES END #1
The ranks of the Red Lanterns have grown to monstrous numbers, and with no Blood Lake to restore their sanity, they're terrorizing the universe. It's up to Blue Lantern Guy Gardner to correct the deadly mistake he made!
GREEN LANTERN NEW GUARDIANS FUTURES END #1 
The power of the white lantern power has brought Kyle to the brink of death! Now, he must decide whether to release that power into the universe, or find another unsuspecting soul to take it on.
GREEN LANTERN CORPS FUTURES END #1  
John Stewart makes a fateful decision - will he choose to take his last shot at redemption? Or will he pull the trigger and kill any chance of a life worth living, in the name of saving the Corps?
GREEN LANTERN FUTURES END #1   
Across the universe, the dead are rising - the Black Lanterns are back! Only one being knows what it will take to destroy them this time...the one who understands the spectrum inside and out: Relic! But there's no way Hal Jordan is prepared for the part he'll have to play in order put an end to the Black Lanterns once and for all!
SINESTRO FUTURES END #1   
Sinestro has been imprisoned by a powerful new intergalactic force with ideals based on a twisted version of his own code! Lost in a super-max prison on the far side of the universe, he orchestrates an escape...and his revenge!
RED HOOD AND THE OUTLAWS FUTURES END #1 
Red Hood rides solo in the future as he reveals hints to how the Outlaws and his partners Starfire and Arsenal parted ways and how that lead to Jason Todd's new mission of retribution and brutal justice.
HARLEY QUINN FUTURES END #1  
Harley and The Joker make it legal at last! Follow the happy couple to their secret honeymoon spot, where it's literally till death do they part!
CATWOMAN FUTURES END #1 
Catwoman's battle to be kingpin of crime in Gotham City takes an unexpected turn when Selina and Black Mask are revealed to be one and the same!
BIRDS OF PREY FUTURES END #1  
Free of Ra's al Ghul's control at last, Black Canary claims her rightful place as the head of the League of Assassins!
BATWOMAN FUTURES END #1   
Now a creature of the night, Batwoman turns against her former lover, Nocturna, in final, deadly conflict
BATWING FUTURES END #1   
Luke Fox has rejected his father, which leads him to rebuilding a more deadly and dangerous Leviathan!
BATGIRL FUTURES END #1  
It's five years later, and Barbara Gordon has become Bête Noire - a.k.a. The Black Beast! Part Batman and part Bane, she leads a squad of female agents through the Gotham Underground!
BATMAN AND ROBIN FUTURES END #1 
Bruce continues to feel the fallout from his extreme new crime fighting methods - is he ready to face the might of Heretic?
DETECTIVE COMICS FUTURES END #1   
Batman takes his war on crime to the next level, but he needs the help of his greatest ally - The Riddler?!  
BATMAN FUTURES END #1  
It's five years later and Bruce Wayne is using dangerous science to help him continue his war on crime. What is it, and what forced Bruce to resort to such extremes?                                  
BATMAN/SUPERMAN: FUTURES END #1
A new super beings seeks out Batman: a creature born of hate who the broken Bat may not last long against!
SUPERGIRL FUTURES END #1 
At last, Supergirl reconciles with her father, Cyborg Superman - in the most horrific way possible!
SUPERBOY FUTURES END #1 
Kon has a final, fateful confrontation with his clones and finds help from some unlikely allies!
ACTION COMICS FUTURES END #1     
With the Man of Steel missing, ordinary people around the world start to mysteriously exhibit his strengths and abilities...
SUPERMAN FUTURES END #1     
There's a new, much darker Superman prowling the streets of Metropolis! But who exactly is he?
SUPERMAN WONDER WOMAN FUTURES END #1 
The battle between the God of War and Nemesis can only spell doom for humanity - but can Kal restore Diana to her senses before it's too late?
WORLDS FINEST FUTURES END #1      
Power Girl must break into Cadmus Island to free Huntress - but she ends up a prisoner herself!
WONDER WOMAN FUTURES END #1          
Her humanity lost forever, Wonder Woman embraces her true nature as the God of War to battle the armies of Nemesis!
TRINITY OF SIN PHANTOM STRANGER FUTURES END #1     
With one coin of redemption left, the Phantom Stranger faces his final challenge - in front of the new Council of Eternity!
TRINITY OF SIN PANDORA FUTURES END #1   
Pandora's box has been reformed - but it can only be sealed from the inside! How can she make the ultimate sacrifice to safeguard the world against the deadly evils it holds?
CONSTANTINE FUTURES END #1      
After a desperate five-year quest, John Constantine has claimed the ultimate occult prize: the Helmet of Fate!
INFINITY MAN AND THE FOREVER PEOPLE FUTURES END #1   
Five years from now, the New Gods are missing, Infinity Man is trapped on Earth, and all is not as it seems in Mark Moonrider's life. Is he living some beautiful dream, or is he stuck in a never-ending nightmare?
GREEN ARROW FUTURES END #1   
Green Arrow is dead - and his replacement finally stands revealed!
EARTH 2 FUTURES END #1          
Michael Holt has survived the war between the two worlds he's called home. Now, he's taking drastic measures to ensure that there will be no more war - regardless of the cost!
AQUAMAN AND THE OTHERS FUTURES END #1  
The Dead King leads the Others in a final assault on Atlantis to end Mera's reign forever!                    
AQUAMAN FUTURES END #1         
Mera has claimed the throne of Atlantis for herself - and she's sentenced her unfaithful husband, Aquaman, to death!
FLASH FUTURES END #1              
It's the final showdown between The Flash and his future self for control of the Speed Force - with Wally West's life hanging in the balance!
JUSTICE LEAGUE DARK FUTURES END #1 
An emotionally and physically scared Zatanna struggles to find a way to return her team and the House of Mystery itself to our own dimension - but the cost might doom them and our world!
JUSTICE LEAGUE UNITED FUTURES END #1   
In the concluding chapter of the epic story that began in this month's JUSTICE LEAGUE: FUTURES END #1, the armies of Mars rise against the unsuspecting population of Earth - and only the combined might of the Justice League and the Legion of Super-Heroes can stand against them!
JUSTICE LEAGUE FUTURES END #1  
The mystery of the Martian Manhunter is revealed at last as his decades-long plan for world domination comes to fruition! Continues in this month's JUSTICE LEAGUE UNITED: FUTURES END #1!
STAR SPANGLED WAR STORIES GI ZOMBIE FUTURES END #1  
G.I. Zombie stands alone against a zombie army of thousands as the U.S. military's experiment reaches its horrifying fruition!
TEEN TITANS FUTURES END #1       
With the Teen Titans dead, a new group of young heroes seek justice in the future DC Universe!
NEW SUICIDE SQUAD FUTURES END #1   
Amanda Waller's covert war against the United States reaches the boiling point as the Suicide Squad takes the White House!  
GRAYSON FUTURES END #1  
Branded a traitor, Dick Grayson has become the most powerful hero in the newly resurgent and dominant Mother Russia - and now, he must battle the Beast from the East in one final struggle for supremacy!
BOOSTER GOLD FUTURES END #1                                
Trapped out of time on a world that defies reason, Booster Gold struggles to escape the fate that has held him and so many forgotten heroes captive!