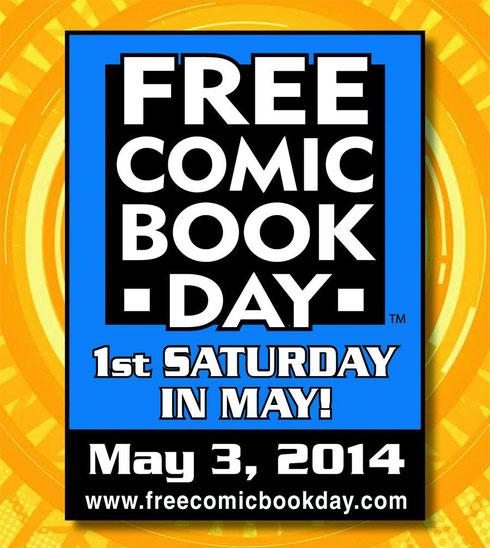 Cada año se realiza una celebración patrocinada por las editoriales de cómics en la cual, ellas, buscan agradecer a los consumidores/lectores de sus historias... ¡Ustedes!

Se conmemora este festín de lectura el primer sábado de mayo. Este año, nosotros tendremos títulos a ofrecer. Esperamos tener una gran fila de clientes esperando que abramos cortinas a las 11am de ese día.
Entre los títulos a ofrecer, están: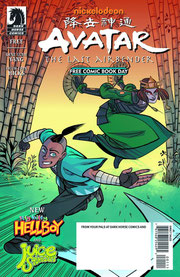 FCBD 2014 DH AVATAR HELLBOY JUICE SQUEEZERS 
DARK HORSE COMICS
(W) Gene Luen Yang & Various (A) Faith Erin Hicks & Various (CA) Faith Erin Hicks
In Avatar: The Last Airbender, Sokka follows Suki as she gives a lesson in manners and encourages a young girl's strength. Itty Bitty Hellboy has fun toying with nemesis Rasputin, and the Juice Squeezers crew leap into action to defend one of their own against a persistent bully. Hilarity ensues!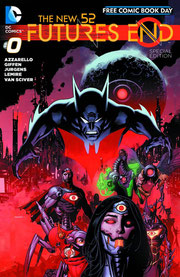 FCBD 2014 DC THE NEW 52 FUTURES END SPEC ED 
DC BUY SELL
(W) Brian Azzarello & Various (A) Ethan Van (CA) Ryan Sook
Jump on board DC Comics' epic weekly series beginning with this all-new FCBD issue that features tomorrow's Dark Knight, Batman Beyond (making his first appearance in The New 52), battling an army of cyborgs to avert an Apocalypse in the future which could destroy the DC Universe of the present! But that's not all; there are still more surprises to come. Stay tuned for more details!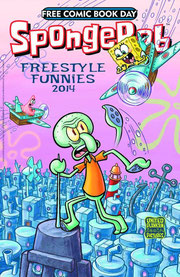 FCBD 2014 SPONGEBOB FREESTYLE FUNNIES 
UNITED PLANKTON PICTURES
(W) Graham Annable & Various (A) Jacob Chabot & Various (CA) Jacob Chabot
United Plankton's all-new SpongeBob comic book for FCBD 2014 starts with "Relocate!", in which we finally learn the answer to the age-old question: "What if Squidward, SpongeBob, and Patrick's houses all became giant robot creatures and stomped around Bikini Bottom?" Also: the debut of the saltwater super-sensation, Mermaid Girl, and SpongeBob schools Patrick in the ways of comic-book making in "SpongeBob ComicSnob!" Plus: comics from James Kochalka, Sam Henderson, Nate Neal, and Andy Rementer!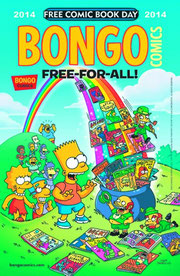 FCBD 2014 BONGO FREE-FOR-ALL
BONGO COMICS
(W/A/CA) Matt Groening
It's the foremost FCBD four-color giveaway of the year! Bart and Milhouse seek superheroic origin stories by attempting to acquire "accidental" superpowers... and learn that with trying to obtain great power comes great irresponsibility! Plus: Bart and Prof. Frink become trapped in between dimensions when a science demonstration goes awry, and C. Montgomery Burns takes us on a guided tour through the bowels of the Springfield Nuclear Power Plant!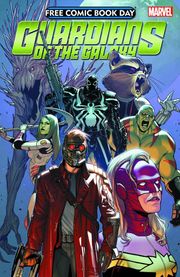 FCBD 2014 GUARDIANS OF GALAXY
MARVEL COMICS (BUY - SELL)
(W) Brian Michael Bendis, Dan Slott (A) Nick Bradshaw (CA) Sara Pichelli
In an all-new story by award-winning writer Brian Michael Bendis and acclaimed artist Nick Bradshaw, the Guardians of the Galaxy welcome Venom and Captain Marvel to the team for the launch of a not-to-be-missed death-defying epic! PLUS: Writer Dan Slott lays the foundation for 2014's top secret Spider-Man event that will rock the Wall Crawler's world forever!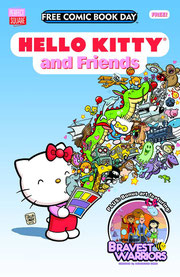 FCBD 2014 HELLO KITTY SURPRISE
PERFECT SQUARE
(W/A) Various
Hello Kitty and her friends star in all-new comic book adventures, and this time they're letting their imaginations run wild! Plus: Don't miss the sneak peek of Perfect Square's upcoming tribute book celebrating Hello Kitty's 40th anniversary.
Bonus feature! Perfect Square introduces exciting Bravest Warriors adventures featuring the irrepressible Catbug!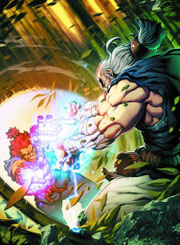 FCBD 2014 STREET FIGHTER #0 (NET)
UDON ENTERTAINMENT CORP
(W) Ken Siu-Chong (A) Joe Ng & Various
SHO-RYU-KEN! UDON's Street Fighter comics are back, and bigger than ever! Ryu, Ken, Chun-Li, and all of the hadoken-hurling action you love graces the pages of this oversized new comic book! Developed specially for Free Comic Book Day, this issue includes brand-new stories for hardcore Street Fighter fans, and a stand-alone chapter from Street Fighter Origins: Akuma-the perfect introduction for newcomers to the Street Fighter universe!